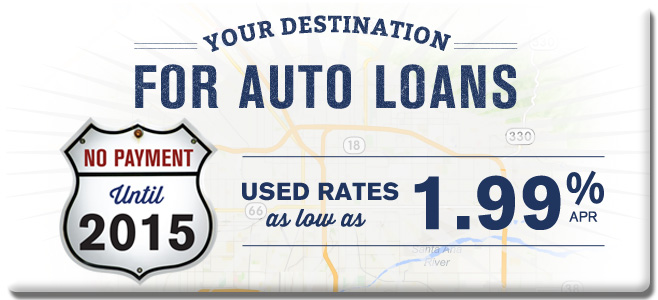 FAQ
Is there a minimum value for collateral?
Yes, collateral must be at least $5,000.

What are the available terms?
Terms from 24 months to 72 months (no penalty for early payoff).

Does the vehicle need to be insured?
Yes, the vehicle must be fully insured while Arrowhead CU is listed as the lienholder.

Is there a limit on how old the car can be?
In most cases the car must be 7 years old or newer. However we will make exceptions for some vehicles older than 7 years old. Please inquire with our lending department for more information by calling (800) 743-7228.

How do I receive a low auto loan rate?
Rates are based on your individual credit history and include all available discounts. If you set up an automatic payment from an Arrowhead account you can receive a .25% discount.

I was pre-approved, now what do I do?
Take your pre-approval to the dealership. After you've selected your vehicle, let them know that you have financing in place with Arrowhead. They will give you a purchase order to bring to Arrowhead. We will review the purchase order, have you sign for your loan, and give you a check to take back to the dealer—and you drive away in your new car.

If you want to skip having to come back to a branch, you can use our DocuSign tool to sign for your loan from a computer or mobile device. We then call the dealership and arrange the payment with them so you can drive away with your car. (as long as it's during our normal business hours)
APR=Annual Percentage Rate. Best rate is includes all available discounts including a .25% discount for automatic payment from an Arrowhead account. Rates valid as of . Subject to change without notice. Rates may vary based on individual's credit history and underwriting factors.
Used rate applies to vehicles 7 years old or newer.
We offer protection plans
to cover you in case of loss,
accidents or breakdowns.
Have payments automatically
transferred from your checking
to your loan to get an additional
.25% discount on your auto loan
interest rate.