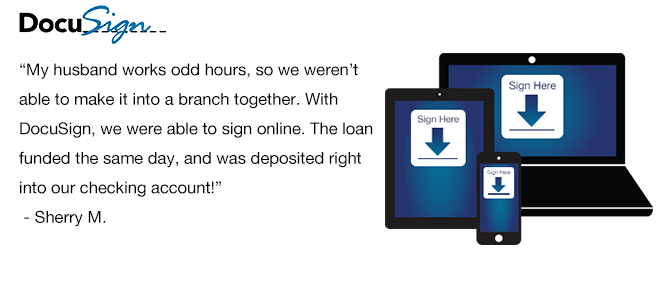 FAQ
What is DocuSign?
DocuSign is a safe and secure way to sign important documents from anywhere, anytime with any device.
How do I start using DocuSign?
Let Arrowhead Credit Union know that you are interested in doing your next new auto loan, auto refinance, or private party transfer using the DocuSign service and the process will start with an email from Arrowhead Credit Union via DocuSign.
How can I access DocuSign?
DocuSign is available online on your computer and also on mobile phones and tablet devices through their own application that can be downloaded on Google PlayTM or the App StoreSM.
You can make your monthly
payment easy by setting up
automatic transfers from
your checking account to
your loan.
Get pre-approved in a branch,
online or by phone at
(800) 743-7228.