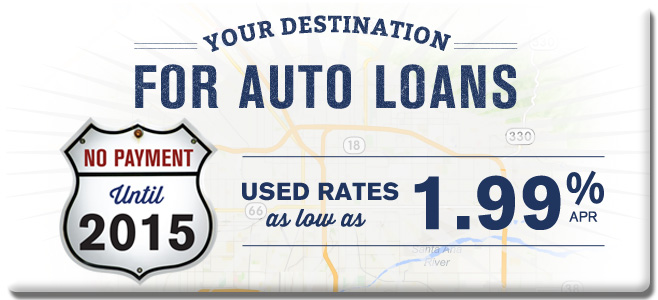 Rates & Fees
Used Vehicles
Effective Date: October 31, 2014
Terms
APR Range*
Est. Payment/$1,000 borrowed
Used Auto 2008 - 2015 (Up to 110% Financing)
Up to 60 Months


(Dependent on amount financed)

1.99% - 18.49%
$17.53 - $25.67

72 Months
(Dependent on amount financed)

2.49% - 18.99%
$14.97 - $23.38
Auto Loan Fees
Fee
Early Payoff
No Penalty for early payoff
APR=Annual Percentage Rate. All rates include all available discounts including a .25% discount for automatic payment from an Arrowhead account. Rates valid as of . Subject to change without notice. Rates may vary based on individual's credit history and underwriting factors.
Used rate applies to vehicles 7 years old or newer.
We offer protection plans
to cover you in case of loss,
accidents or breakdowns.
Have payments automatically
transferred from your checking
to your loan to get an additional
.25% discount on your auto loan
interest rate.