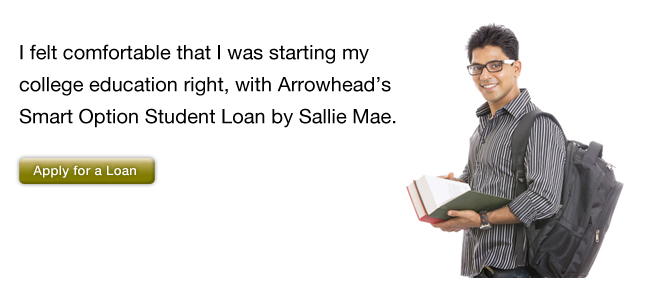 Smart Option Student Loan
The Smart Option Student Loan for Arrowhead Credit Union by Sallie Mae® For borrowers attending degree-granting institutions.

Now you can pay for college the smart way with three great repayment options and competitive interest rates!

This loan is an ideal solution to help you pay for college expenses not covered by scholarships and federal loans. To learn more or to apply, please get started here.
The Smart Option Student Loan features and benefits:
Multiple in-school repayment options, plus a choice of competitive fixed and variable interest rates, providing even more flexibility
No origination fees and no prepayment penalty
Benefits and an interest rate reduction available
Rates that reward credit-worthy borrowers
Applying with a creditworthy co-signer may help you qualify
100% US-based Student Loan Specialists
To learn more, please get started here.
Once your teen turns 18,
they can convert their
Teen Debit account into an
Arrowhead Checking account,
and receive a new Visa
Debit card that no longer
has teen restrictions.