Arrowhead Loan Payments
Making a payment to your loan is easy. Whether you'd like to pay from your account at Arrowhead or another institution, using a bank card, or you're paying someone else's loan—we have two options for you.

Payment from an Account
Login to mobile or Online Banking to schedule a fee-free transfer from your account at Arrowhead or other institutions.
Payment by a Card or for a Third Party
Use our online payment portal to make a payment using your non-Arrowhead bank card or to make a payment on someone else's loan. ($3 fee temporarily suspended.)
FAQs
How do I cancel a priority payment?
You can cancel existing priority payments by calling us at (800) 743-7228 or visiting a branch. Be sure to cancel any existing priority payments before scheduling online payments.
When will my payment post?
Transfers from your Arrowhead account using Online Banking will post immediately.
Card payments using our online payment portal will be posted by the end of the following business day.
ACH payments from other financial institutions will be posted within 1 to 3 business days after the date payment is submitted.
What payment methods are accepted?
You can make payments using your Arrowhead account, another financial institution's routing number and electronic account number, a Visa debit card, or MasterCard credit and debit cards.
Can I log in with my Online Banking user name and password to the online payment portal?
No, you will need to create a new user name and password for the online loan payment portal. If you would like to receive payment confirmation, use your own email when you register.
If you're making a payment via Online Banking then you will need your login credentials.
How do I make a payment in Online Banking?
Set up payments/transfers from your Arrowhead accounts by logging into Online Banking, selecting "Transfers" and follow the prompts.
To pay from another institution, log in to Online Banking, select "Transfers", then select "Other Institutions". From there, follow the prompts to add your account information.
Do I need to create an account for the online payment portal?
No, you can use the Express Pay feature to quickly make a payment without creating a login or having to save your payment methods. (If you Register, your ACH information can be saved and recurring payments scheduled with autopay.)
Payment Comparison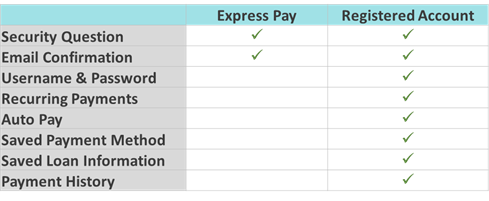 What information do I need for the online payment portal?
You will need the primary member name, member number, and loan ID associated with the loan that you wish to pay. Additional security questions specific to the primary member may be required.
Can I schedule recurring payments using the online payment portal?
Yes! If you Register you can set up and manage recurring payments from other financial institutions with autopay. Please note, this feature is not available for payments made by credit/debit cards.
Is there a fee to make a payment from a card or third party account?
At this time, the normal $3 fee is temporarily suspended.
Can I make a payment for someone else?
Absolutely, using the online payment portal. The member you are making a payment for simply needs to provide you with their member number and loan ID. A payment confirmation email will be sent to the email address provided within the payment process.