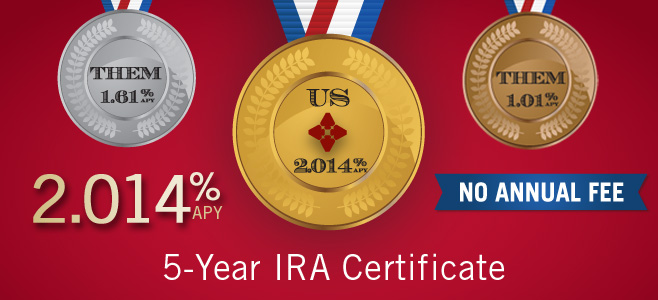 IRA Certificates
Go for the gold and get above-market rates on IRA Certificates for a limited time only! Plus, deposit more than $100,000 and earn even more!
Open with as little as $1,000
No annual maintenance fee
Terms available from 12-60 months
Competitive dividend rates
Your rate is fixed and guaranteed
Get the security of a certificate with the tax advantages of an IRA
Ability to transfer funds from other plans
Federally insured up to $250,000
IRA Certificate
Effective Date: March 11, 2014
Minimum Deposit
12 Month APY*
24 Month APY*
36 Month APY*
48 Month APY*
60 Month APY*
$1,000
0.35%
1.00%
1.25%
1.00%
2.01%
$25,000
0.35%
1.00%
1.25%
1.00%
2.01%
$100,000
0.40%
1.05%
1.30%
1.05%
2.06%
*APY=Annual Percentage Yield. Applies to IRA Certificates only. Certificates subject to early withdrawal fee. Full terms and conditions available in a branch. $1,000 minimum deposit required. Regional averages based on market research as of 1/9/14. Programs and rates are subject to change daily without notice. Does not apply to business accounts.
You may be able to earn
more money by taking out
an IRA Certificate with higher
paid dividends, plus you can
roll it over into a new
Certificate once it matures
for greater earning potential.