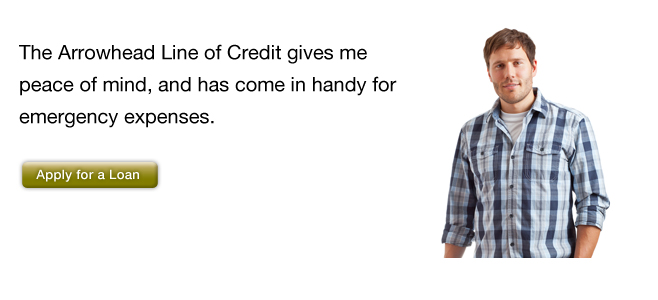 Rates & Fees
Line of Credit or Overdraft Protection
Effective Date: November 21, 2014
APR Range*
Estimated Payment
13.25% - 18.00%
2% of Balance


($35 Minimum)
Line of Credit Loan Fees
Fee
Early Payoff
No penalty for early payoff
Annual Fee
No annual fee
Automatic Transfer Fee
$3/transfer for overdraft protection
*All rates and terms are subject to change without notice. Rates listed are Annual Percentage Rates (APR) and our current lowest rates based on approved credit. Borrower's actual rate may be different based on terms and conditions, credit history and ability to repay. Some restrictions apply. Loan subject to credit approval. Not all members will qualify. Current Arrowhead loans are not eligible for refinancing.
With the flexibility of a line of
credit, you can make special
purchases, do small home
improvements or use it as an
overdraft protection for your
checking account.