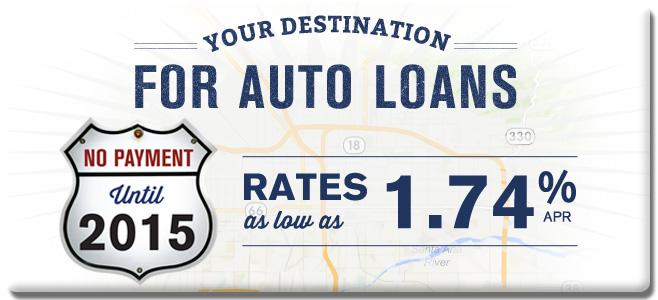 Rates & Fees
New Vehicles
Effective Date: October 31, 2014
Terms
APR Range*
Est. Payment/$1,000 borrowed
New Auto 2013 - 2015
Up to 60 Months


(Dependent on amount financed)

1.74% - 18.24%
$17.42 - $25.53

72 Months
(Dependent on amount financed)

2.24% - 18.74%
$14.86 - $23.24

84 Months
(Dependent on amount financed)

3.24 - 4.24%
$13.33 - $13.79
Auto Loan Fees
Fee
Early Payoff
No Penalty for early payoff
* APR=Annual Percentage Rate. All rates include all available discounts including a .25% discount for automatic payment from an Arrowhead account. Rates valid as of . Subject to change without notice. Rates may vary based on individual's credit history and underwriting factors.

When you sign up for
automatic payments you
can save an additional
0.25% APR on your auto
loan interest rate.